Yes, many city-commuting electric scooters are available on the market, but are they all perfect for you? Most scooters usually come with one flaw or the other; they can't all have it all, right? For instance, some lack sufficient commuting speed, range, and load capacity. Considering all the available specs and convenience features, Nanrobot Lightning might just be one of the best city commuters out there. Here's why we came to this conclusion.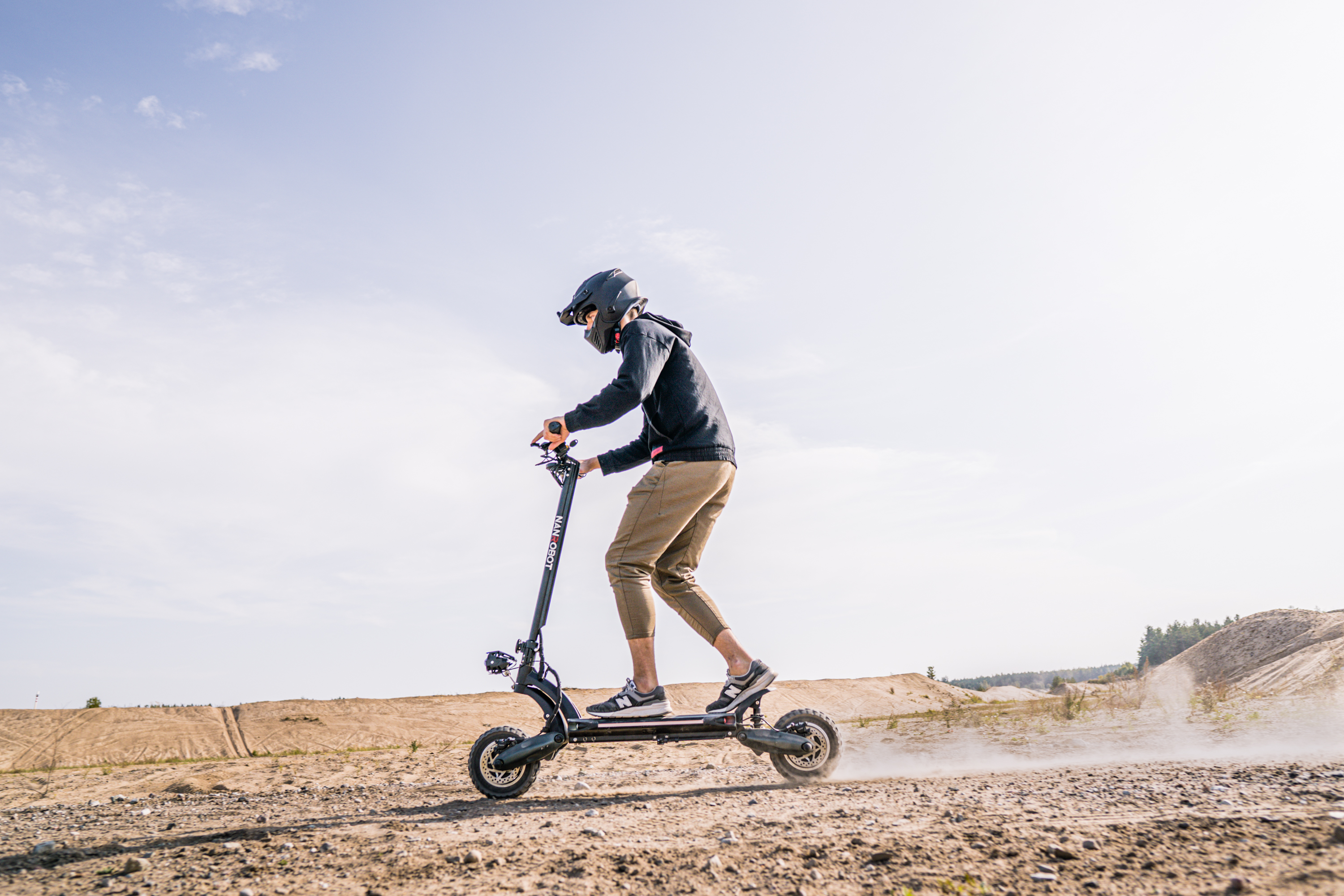 Key Features:
Motor: 1600W (800W x2) Dual Motors
Max Speed: 30 MPH
Battery: 48V 18AH
Max Range: 20-25 Miles
Display: Digital LCD with USB Port
Suspension: C-Type with Front and Rear Hydraulic Spring Shock Absorbers
Brakes: Front and Rear EBS Disc Brake System
Tires: 8 Wide Wheel Solid Tires
Charging Ports: 2 (1 Charger included)
Lights: LED Front and Rear
Anti-theft Feature: Voltage Cutoff w/ Key Lock
Mileage Range and Battery Capacity
The Nanrobot Lightning's 48V 18AH lithium battery is said to provide enough power to cover a 20-25 mile range. But during our full-range test, it managed to get to 25 miles in the single ECO mode, and there was actually some power left in the battery, Impressively, we got 17 miles in real-world conditions while going on full speed for hill-climbing tests. And actually, there was still about 40% of power left on the battery.
Motors and Acceleration
The Nanrobot Lightning is powered by dual 800W motors (front and rear wheels) that jointly propel an impressive total output of 1600W of power. These motors gear up the scooter to a max speed of 30 MPH in the blink, just as fast as lightning, if you catch the pun. Interestingly, during our test ride, the scooter reached up to 31 MPH, which is higher than what was advertised. The scooter also has diverse speed modes and cruise control. The Lightning has way better acceleration than one would have expected. Particularly in the dual-mode, the scooter effortlessly climbs hills, even if the rider weighs as much as 280 lbs (127 kg). Basically, it offers you the settings needed for enjoyable urban commuting.
What's in the Cockpit?
There's a full set of controls on the handlebars, and of course, the ignition key area is there too for security. The LCDs all the information you'd need about your batterv, ride distance, speed, etc. The handlebar features Nanrobot-branded comfortable grips which also home the main light, turn light, brake lights switches and the horn.
Portability: Weight and Size
Portability is a key advantage of the Lightning as a city commuter. Although the scooter weighs about 65 bs (29 kg)/ which can be considered a bit heavy, when you think about it, it's actually not that heavy given its features. For this compact scooter size, you get high-end features that are typically peculiar to bigger scooters. And like most Nanrobot scooters, the Lightning adopts the folding mechanism that makes it easy to transport or store.
Safety and Comfortability Features
Lights: The Lightning features spectacular lights, particularly the two LED backlights which shatter darkness at night while giving cool aesthetics to the scooter. The lights definitely get 10 out of 10.
Suspension: Although the scooter has super smooth double suspension and encounters no difficulty going over different rough terrains or shortcuts, the Lightning is not meant for off-roading.
Brakes: Electric scooters are a safe choice for urban commuters but not all of them offer the perfect key feature needed for this – efficient brakes. The Lightning adopts a super effective control system that comprises mechanical and electronic brakes which stop you in no time.
Deck: In terms of size, the scooter's deck is average but of course, it has enough space for most riders. Our test rider stands at about 67 ft (1.85 m) and the deck space didn't seem small at all. The Lightning also features a metal footrest. Overall, riding the scooter is really comfortable.
Tires: The Lightning is equipped with 8-inch solid tires that are super perfect for urban roads. The scooter feels great on smooth surfaces and even to some extent on off-road terrains. Yes, they do feel too hard from time to time, but you'd get used to that in no time. Overall, having solid tires gives you peace of mind. You wouldn't ever have to worry about your tires getting flat, like ever.
Going Green
Do you wanna reduce your carbon footprint and better the ecosystem? Then going for the eco-friendly Lightning can help you do that. Asides from helping you maneuver your way to avoid traffic congestions, the Nanrobot Lightning electric scooter, gives more than it takes. It only needs a little electricity to charge. Of course a single charge can get you up to 25 miles.
And unlike vehicles that need fuel to get going, it does not emit gas into the air. In the near future, electric vehicles will replace other vehicles. You might as well start living in the future now and bettering the ecosystem by opting for e-scooters like Lightning, It also helps that you wouldn't need to spend money on vehicle fuelling.
Nanrobot Lightning vs Nanrobot D6+
For starters, the Nanrobot D6+ and Lightning look pretty similar. Actually, the Lighting is pretty much a smaller version of the D6+ plus with the former having 8-inch tires while the latter sports 10-inch ones. Although the D6+ has slightly better specs than that of the Lightning, the Lightning does have its strong points too. As you might have guessed, the D6+ is bigger and faster than the Lightning. It offers a slightly better range too but based on our drag race test results between the two, the Lightning's performance was pretty impressive too.
During our drag race, the Lightning was neck to neck up against the D6+ until they both reached 27-28 MPH. After that point, the D6+ showed its top speed superiority. As the D6+ continued its exploration until reaching its top speed of 40 MP, the Lightning get pretty much stuck at 30MPH. Basically, both scooters have a similar acceleration performance over short distances. If you use your scooter for daily commuting in the city during the rush hours and traffic congestion periods, you won't notice any difference in speed between the D6+ and the Lightning.
Conclusion
For a commuting scooter and the amount you pay to get it, the Nanrobot Lightning's specs are quite impressive. Some of its notable features include the solid tires, rugged suspension, really good battery, impressive acceleration and the simple yet essential folding mechanism. We can't actually say the Lightning is a perfect scooter. For instance, its solid tires feel way too hard on some surfaces; but that's not really a big deal.
For the most part, we prefer bigger electric scooters to the compact ones, but surprisingly, the scooter does hold its own. It offers most of the features you'd typically find in bigger scooters. And if you're a lover of compact vehicles, here's to you! Finally, for its price-to-features ratio, the Nanrobot Lightning is a really good deal if you're working with a tight budget. Heck, at $1,090, its price is super competitive. Compared to what its competitors offer, you'd have to pay no less than $200 more to get similar specs.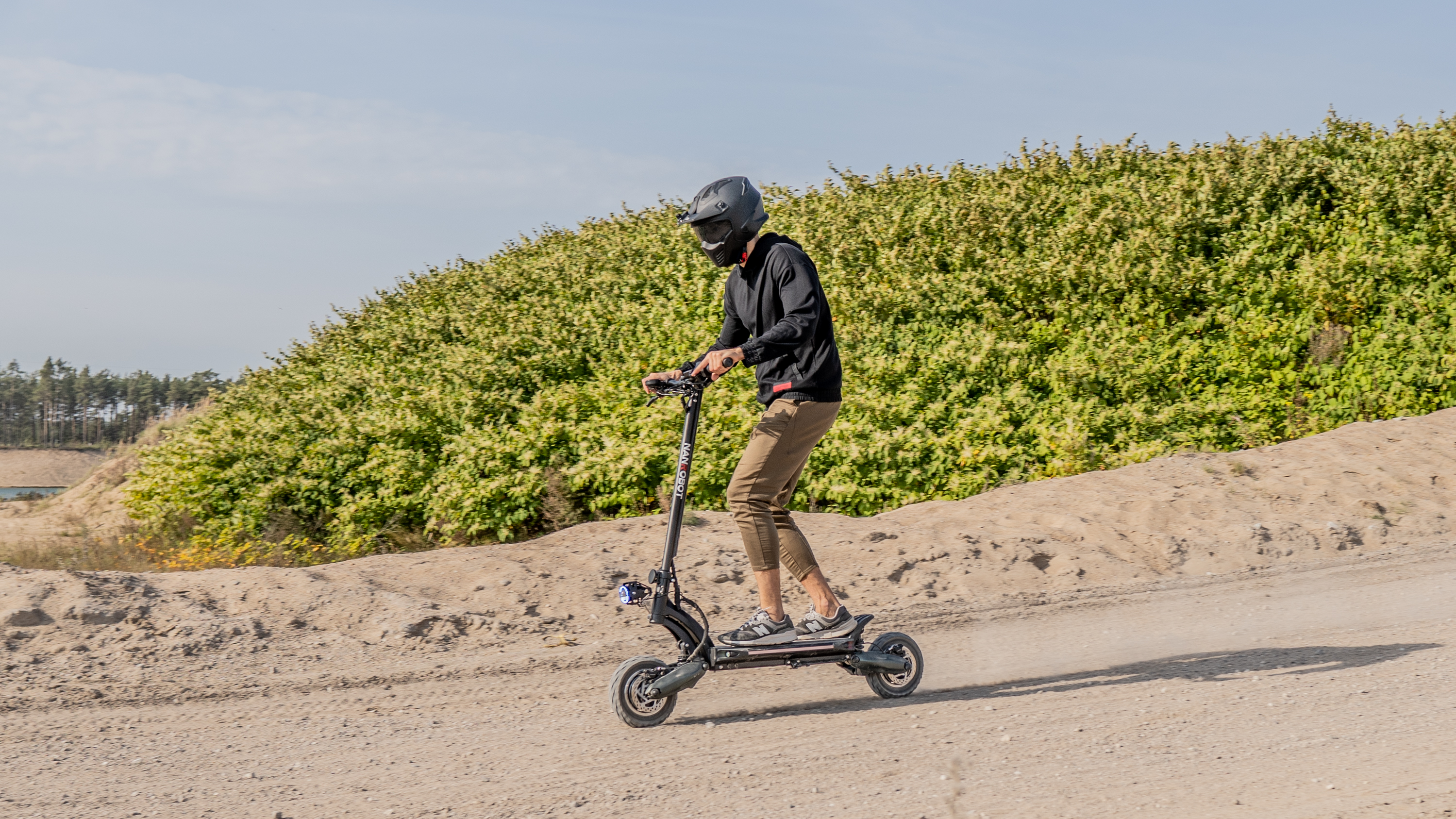 ---
Post time: Feb-10-2022