NANROBOT N6 ELECTRIC SCOOTER 10"-2000W-52V 26Ah
| | |
| --- | --- |
| Motor | 2000 W (1000W x 2) Brushless Dual Drive |
| Battery | 52V 26Ah Lithium Ion Battery |
| Maximum Speed | 39mph |
| Maximum Range | 40 miles |
| Weight | 77 lbs |
| Tire Size | 10" Off-Road Pneumatic Tires (Air) |
| Suspension | C-Type with Front & Rear hydraulic Spring Shock Absorbers |
| Brakes | Front and Rear EBS  Hydraulic (Oil) |
| Battery Recharge Time | 10 - 12 hours (5 -6 with 2 chargers) |
| Lights | LED Front, Rear, and Side |
| Weight Limit | 330 lbs |
| Folded Dimension | 52 x 11 x 21 |
| Display | Digital LCD / USB Port |
| Charging Ports | 2 Ports (1 charger included) |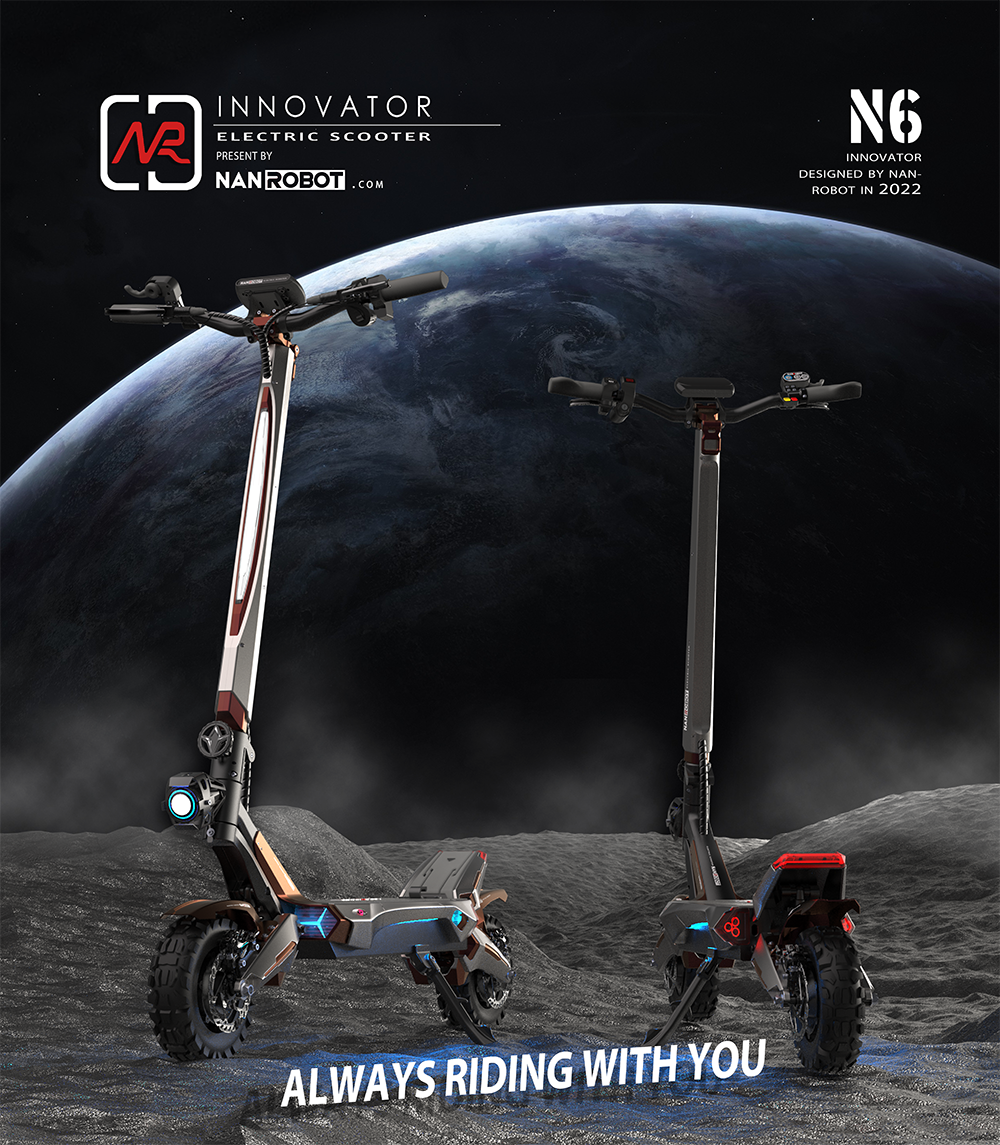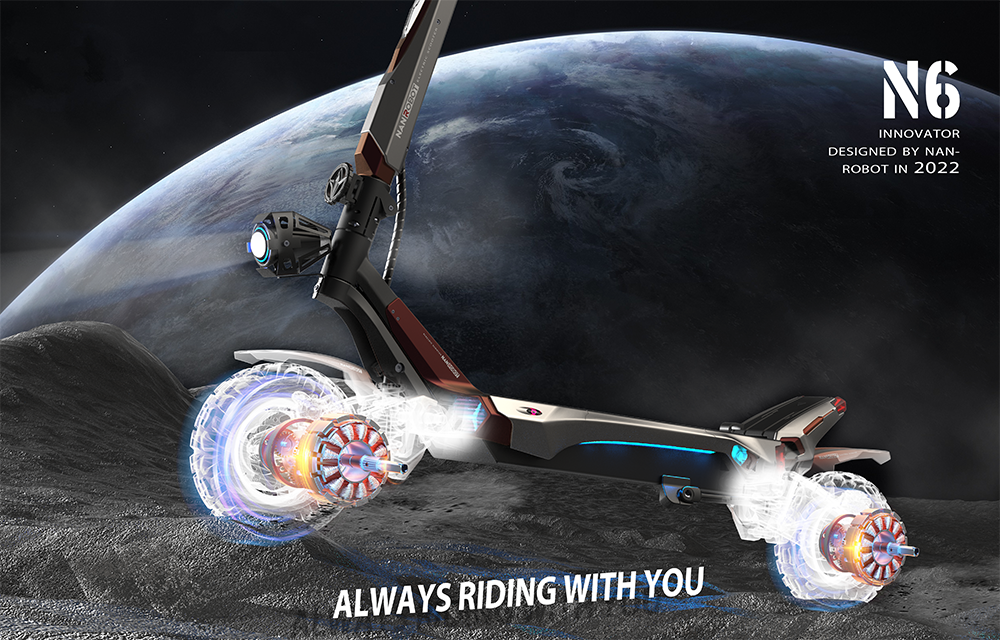 N6 10inch dual hub brushless motor 2000w(2*1000w)
Nanrobot N6 is a folding off-road electric scooter that comes with many ergonomically designed controls.N6 features two hub motors. Each motor will have 1,000 watts of power, so when combined, your electric scooter will have 2,000 watts of output. The motor of the N6 makes it incredibly fast, and you can get the top speed within a matter of seconds. the top speed of the N6 is a solid 40mph (65km/h). It takes less than 7 seconds to accelerate from 0 to 30 mph. When riding at such speeds, be very careful and definitely wear protective gear. Even if the speed is incredibly high, it is stable due to its pneumatic tires.
N6  Intelligent lithium battery management system
N6 will come with a massive 52V 26A lithium battery. That gives you a whopping 1,214Wh of battery capacity, which is enough to get a maximum range of 40 miles. Intelligent battery management system, multi-directional protection of cells, The N6's battery is also equipped with diverse ranges of protection against overcurrent, short-circuit, temperature abnormality, over-receiving, over-discharge, and under-voltage automatic sleep.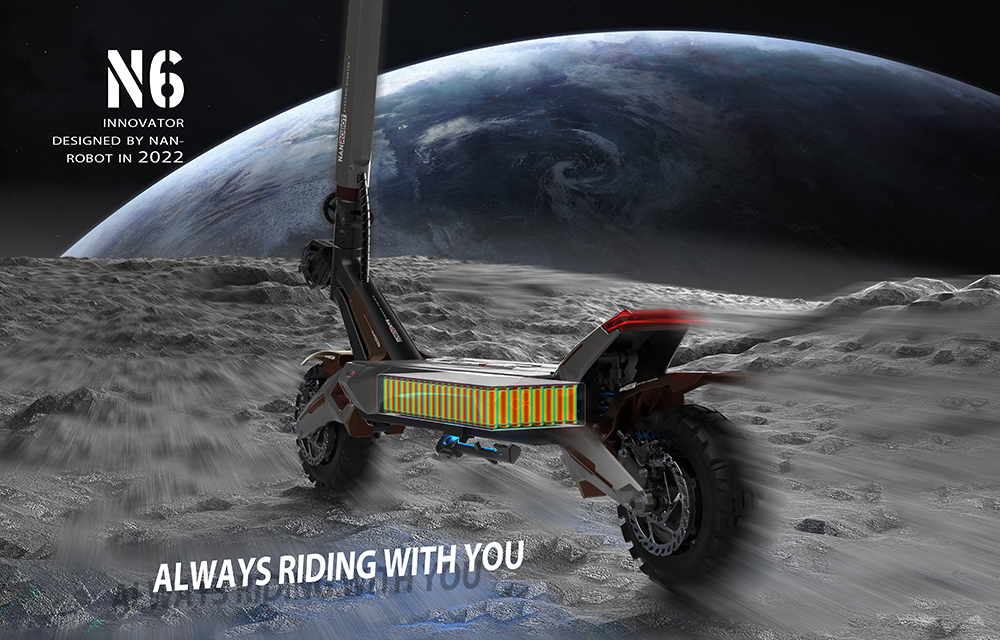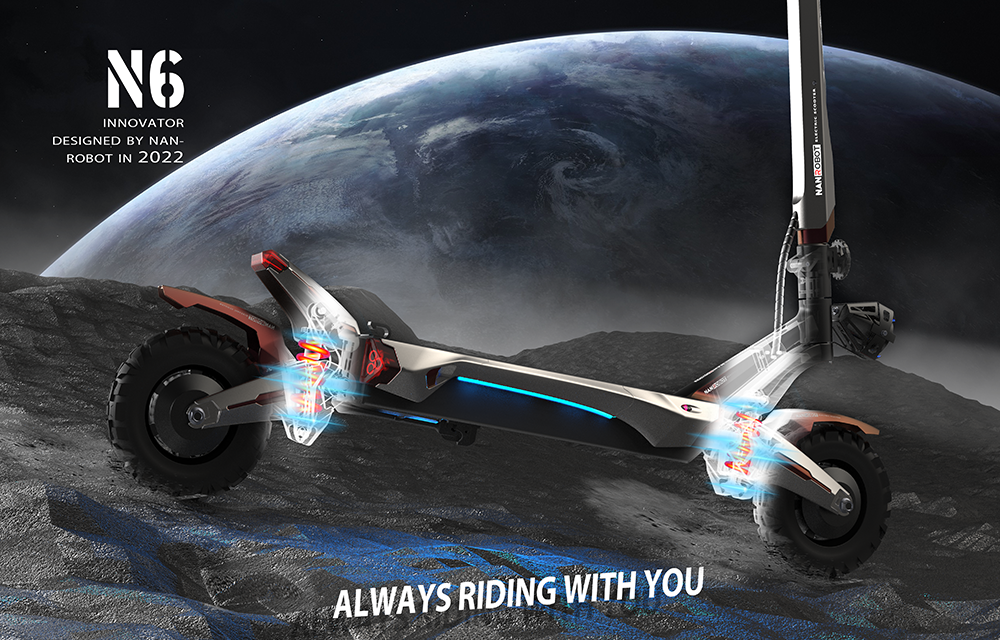 N6  10inch Tires And Suspensions
New Folding Design-NANROBOT N6
Four Feature :
D-shaped design,
Lock protection,
Gear screwing,
Solid aluminum alloy forging
N6 electric scooter sports a quick-folding mechanism that allows it to be folded portably and unfolded in seconds. When folded, it occupies minimal space. This means you can carry it along with you on public transport vehicles or place it in your car trunk.
N6  Hydraulic brakes and headLights
N6 adopts Hydraulic brakes management system,Brakes are more agile.The electric scooter features many integrated lights to light up the roads. you can ride safely, and other motorists will be aware of your scooter as well. It features rear signal lights, an appealing sidelight, and brilliant LED headlights.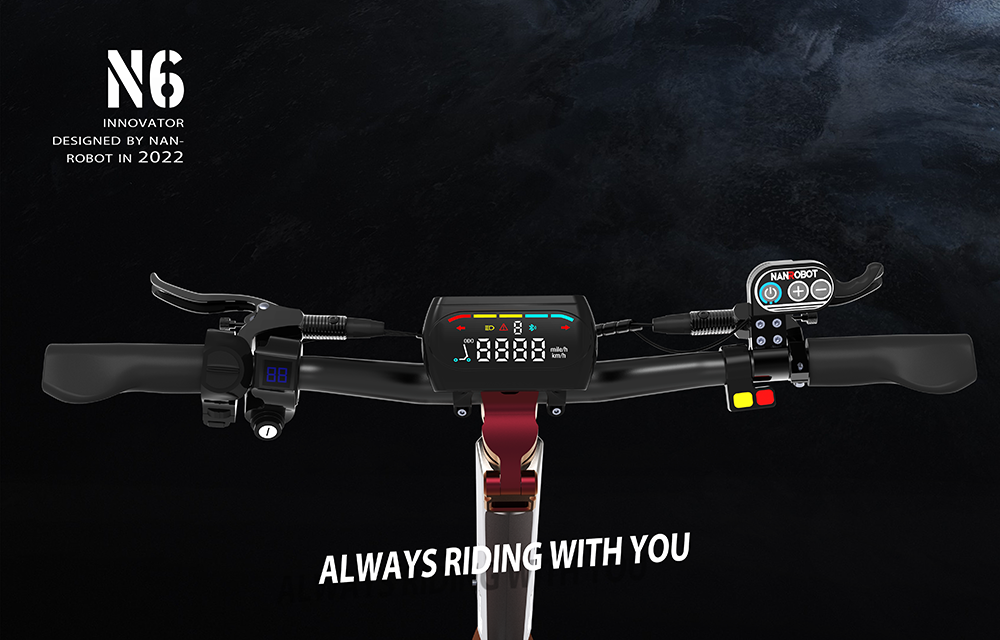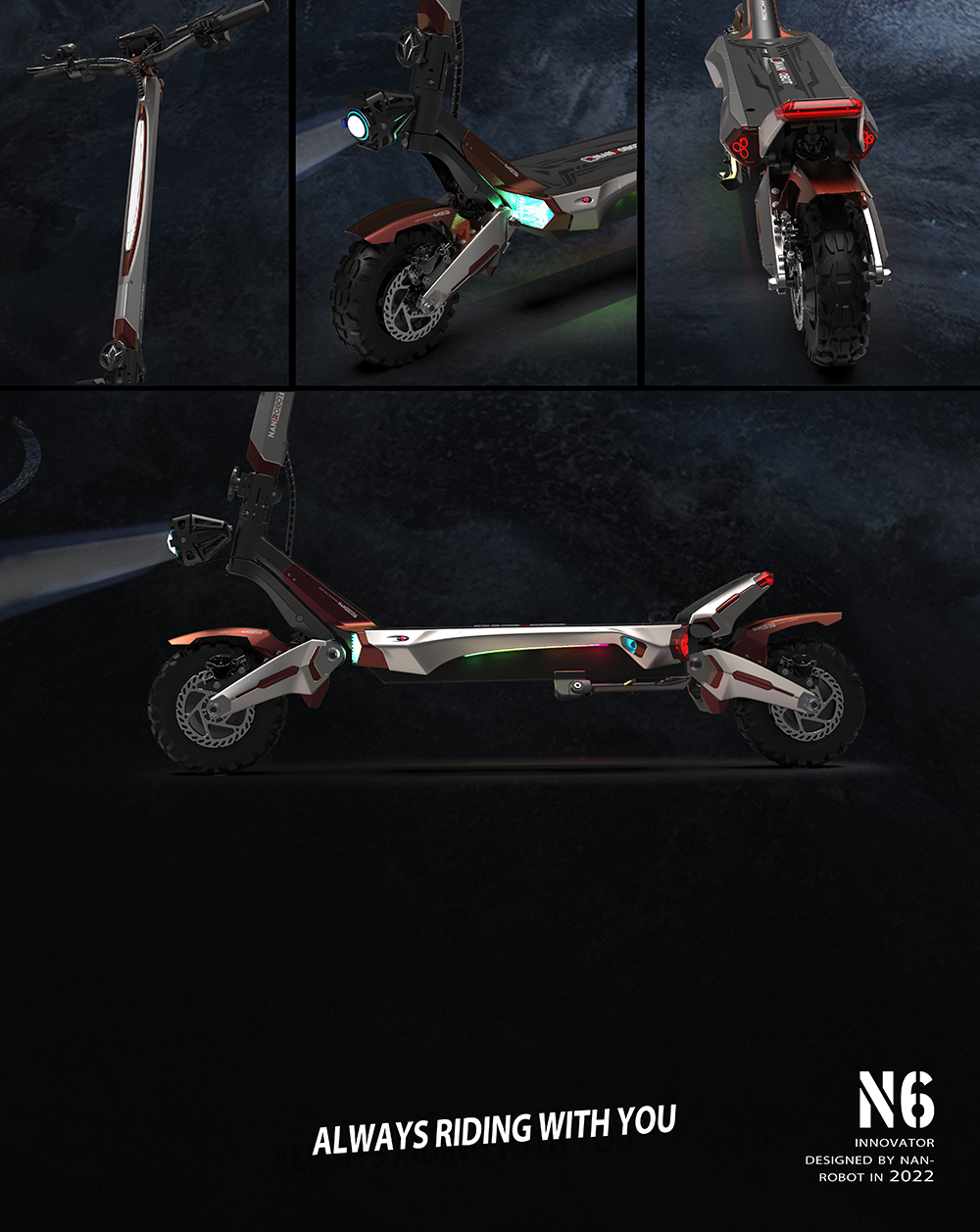 Nanrobot  N6  High Performance Frame And Cockpit
The frame structure of the N6 theme is made of forged aluminum alloy, which makes it stronger and more rigid.it has a 9 inches wide deck. That means you will have sufficient space to keep your feet while tackling rough terrains.With Nanrobot N6 you can easily keep your feet side by side, which makes riding much more comfortable.The wide deck will also ensure that you have a correct posture while controlling your scooter. It can enable you to navigate bumpy roads and take longer rides effortlessly. Also, the deck has rubbery material padding to offer increased traction. The scooter can support up to 330 pounds.
The scooter is equipped with 10-inch off-road fat tires. These tires will provide excellent grip and excellent rolling efficiency. Durable and high-quality tube tires will provide an enhanced driving experience and enhanced stability on any surface. The scooter will have spring suspension at the rear and front. Strong suspension can handle rough terrain. In addition to that, it can perform large jumps. You'll get a smooth ride even in adverse conditions. The springs also make no noise when riding on rough roads.
---
Previous:
Best Price on Nanrobot 1600w Led Urban 48v 40km Long Distance Lowest Price Small Electric Scooter for adult
---
1. What services can Nanrobot provide? What is the MOQ?
We provide ODM and OEM services, but we have a minimum order quantity requirement for these two services. And for European countries, we can provide drop shipping services. The MOQ for a drop shipping service is 1 set.
2.If the customer places an order, how long will it take to ship the goods?
Different types of orders have different delivery times. If it is a sample order, it will be shipped within 7 days; if it is a bulk order, the shipment will be completed within 30 days. If there are special circumstances, it may affect the delivery time.
3.How often does it take to develop a new product? How to obtain new product information?
We has been committed to the research and development of different types of electric scooters for many years. It is about a quarter to launch a new electric scooter, and 3-4 models will be launched a year. You can continue to follow our website, or leave contact information, when new products are launched, we will update the product list to you.
4.Who will deal with warranty and customer service in case it has issue?
The warranty terms can be viewed on the Warranty & Warehouse.
We can help deal with after-sales and warranty that meet the conditions, but customer service needs you to contact.
Write your message here and send it to us