NANROBOT D4+3.0 ELECTRIC SCOOTER 10″-2000W-52V 23.4AH
| | |
| --- | --- |
| Model |  D4+ 3.0 |
| Range |  55-65 KM |
| Motor |  Dual motor,1000W x*2 |
| Max Speed |  60-65 KM/H |
| Net Weight |  70 lbs |
| Load Capacity |  330 lbs |
| Size |  132*125*63 CM |
| Lithium Battery |  52V 23.4Ah |
| Tyre |  10 inch Pneumatic Tyres |
| Brake System |  Dual Hydraulic Brake |
| Charging Time |  9-10 hours with 1 charge,4-5 h with 2 chargers |
D4+ 3.0: Brighter and Better
It is no longer news that the NANROBOT D4+ model is one of the most innovative, versatile, and stylish personal transportation vehicles on the market today. What is new is that the NANROBOT D4+ has a new sibling. It is brighter, better, and more stylish. It's the NANROBOT D4+ 3.0!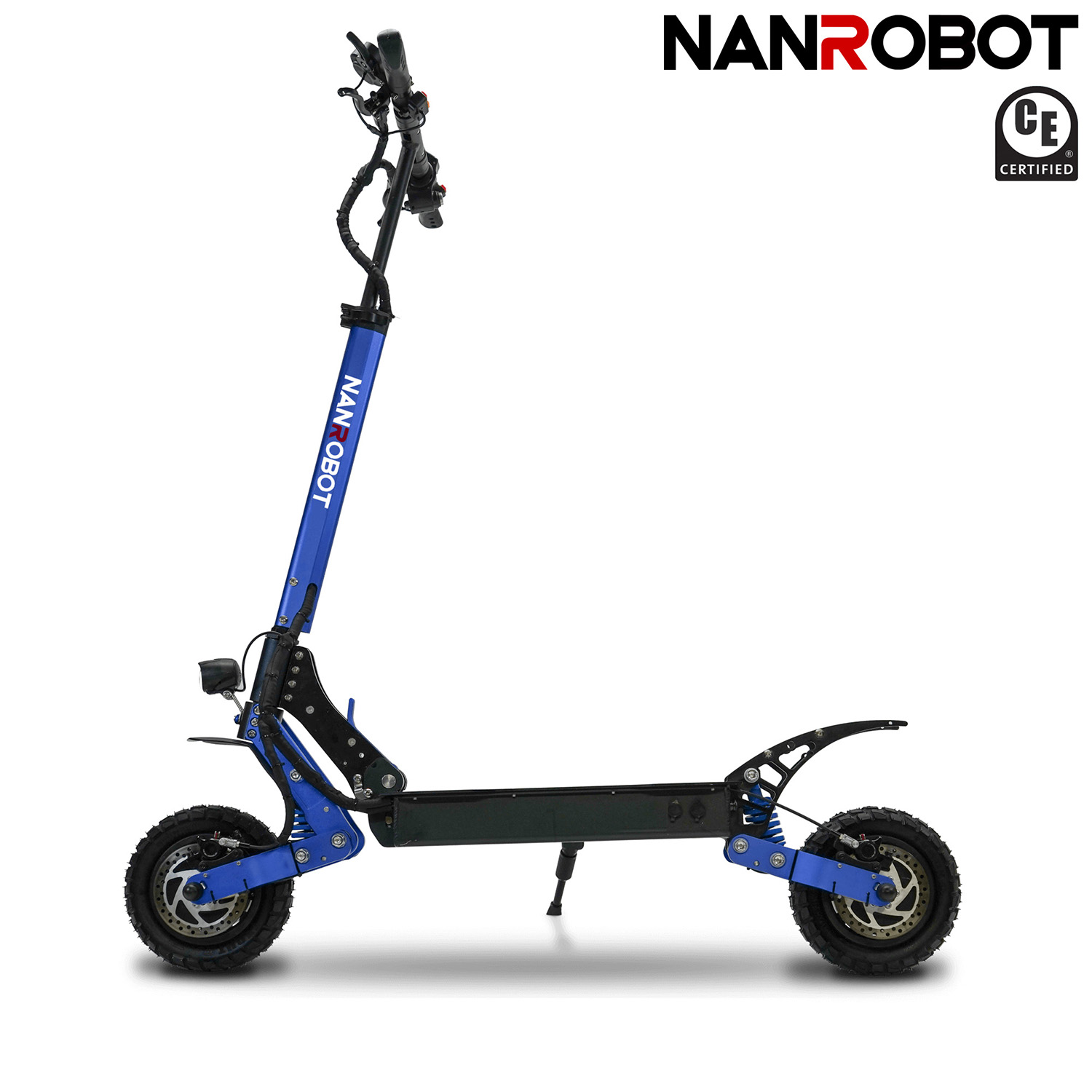 Never be Caught 'Unfresh'
Are you tired of electric scooters with the same old colours? Then it's time to light up your style game with the NANROBOT D4+3.0. This baby comes in two brand new color options. You get to choose between metallic blue or fiery red to suit your style!
Portability is the New Cool
One-touch is all it takes to turn your Hulk of a scooter into Jerry mouse, all thanks to NANROBOT's special folding mechanism. With this portability feature, you can quickly and effortlessly fold your D4+ 3.0, pick it up, and transport it wherever you want.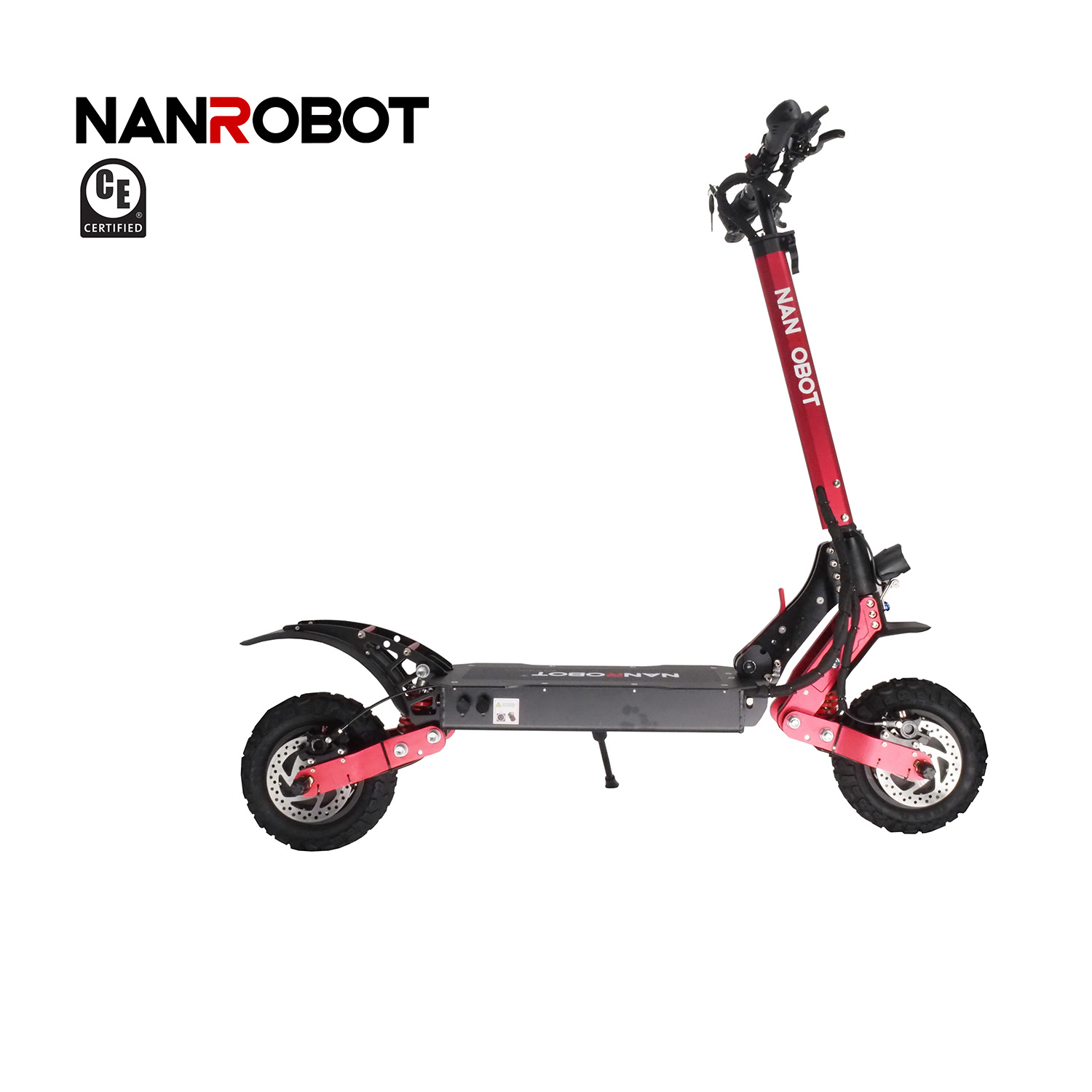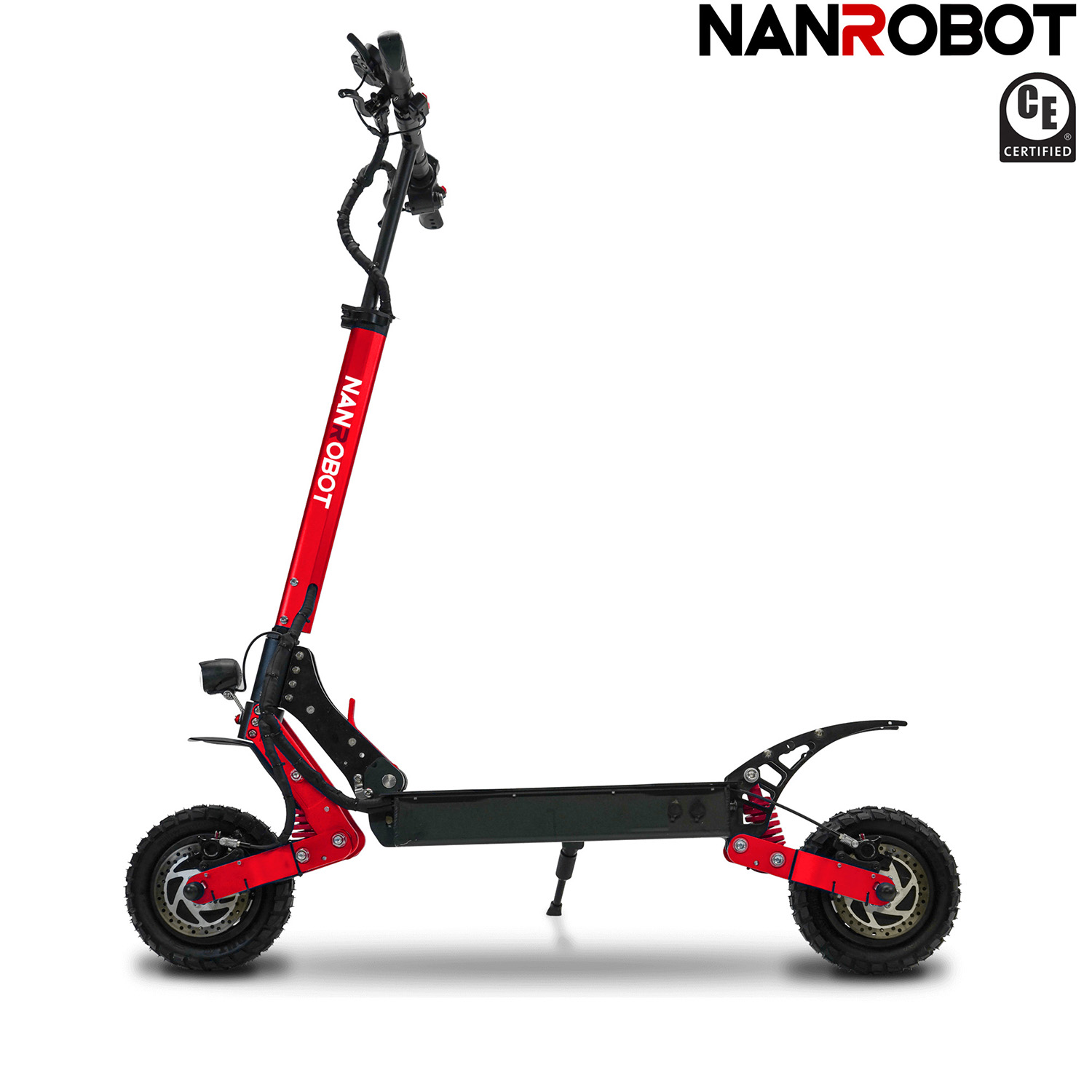 Extraordinary Performance
The NANROBOT D4+ 3.0 is a top-of-the-line electric scooter that comes equipped with the latest technology and features to provide the highest level of performance for scooters within its value range.
It's All About the Specs
The D4+ 3.0 is powered by a powerful 52V 23Ah lithium battery, delivering an impressive 40-mile driving range. Its pair of 10-inch pneumatic hybrid tires and 2 shock absorbers offer you the thrill of hitting top speeds both on and off-road without walloping. And with its highly efficient hydraulic braking system, you are placed in total control.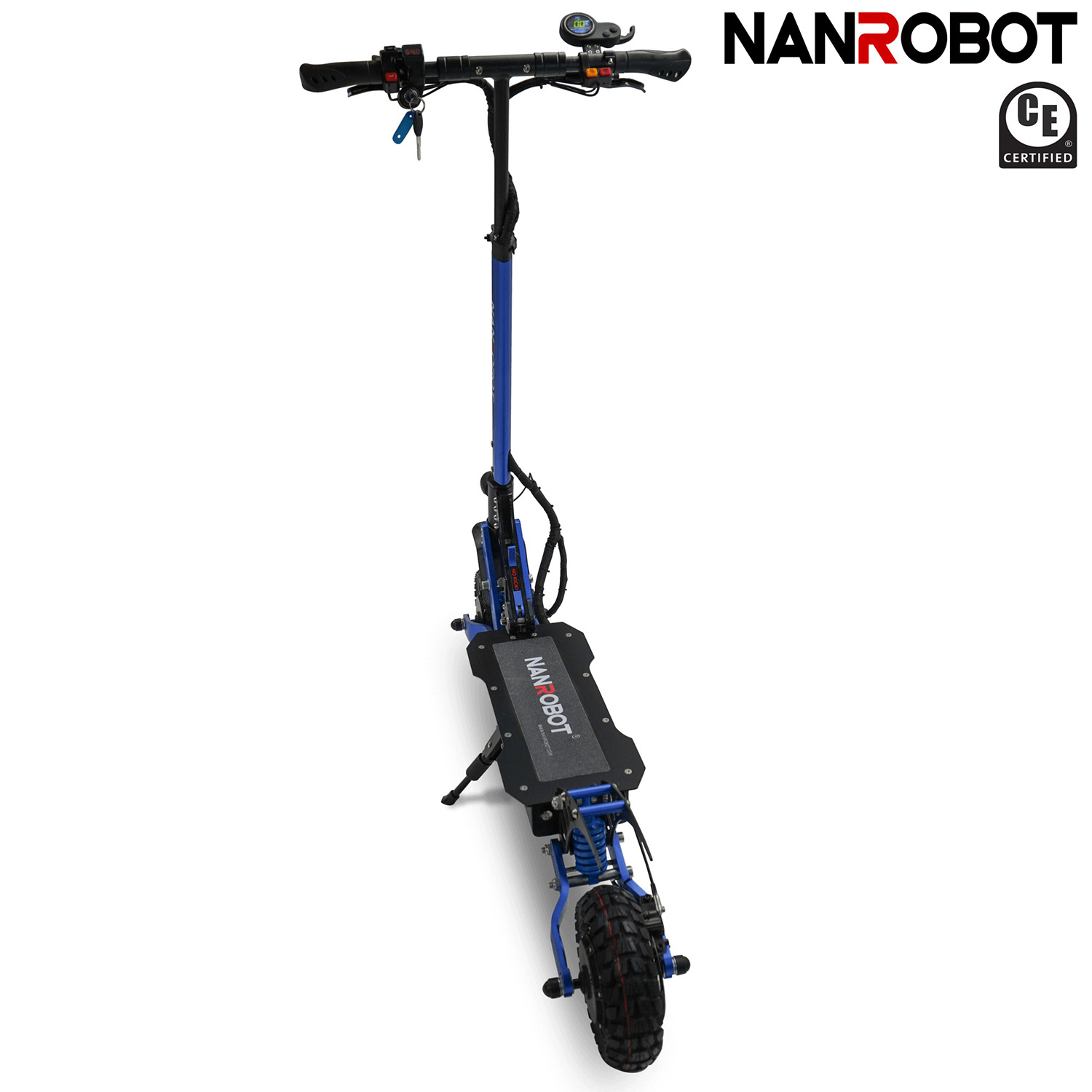 ---
---
1. What services can Nanrobot provide? What is the MOQ?
We provide ODM and OEM services, but we have a minimum order quantity requirement for these two services. And for European countries, we can provide drop shipping services. The MOQ for a drop shipping service is 1 set.
2.If the customer places an order, how long will it take to ship the goods?
Different types of orders have different delivery times. If it is a sample order, it will be shipped within 7 days; if it is a bulk order, the shipment will be completed within 30 days. If there are special circumstances, it may affect the delivery time.
3.How often does it take to develop a new product? How to obtain new product information?
We has been committed to the research and development of different types of electric scooters for many years. It is about a quarter to launch a new electric scooter, and 3-4 models will be launched a year. You can continue to follow our website, or leave contact information, when new products are launched, we will update the product list to you.
4.Who will deal with warranty and customer service in case it has issue?
The warranty terms can be viewed on the Warranty & Warehouse.
We can help deal with after-sales and warranty that meet the conditions, but customer service needs you to contact.
Write your message here and send it to us